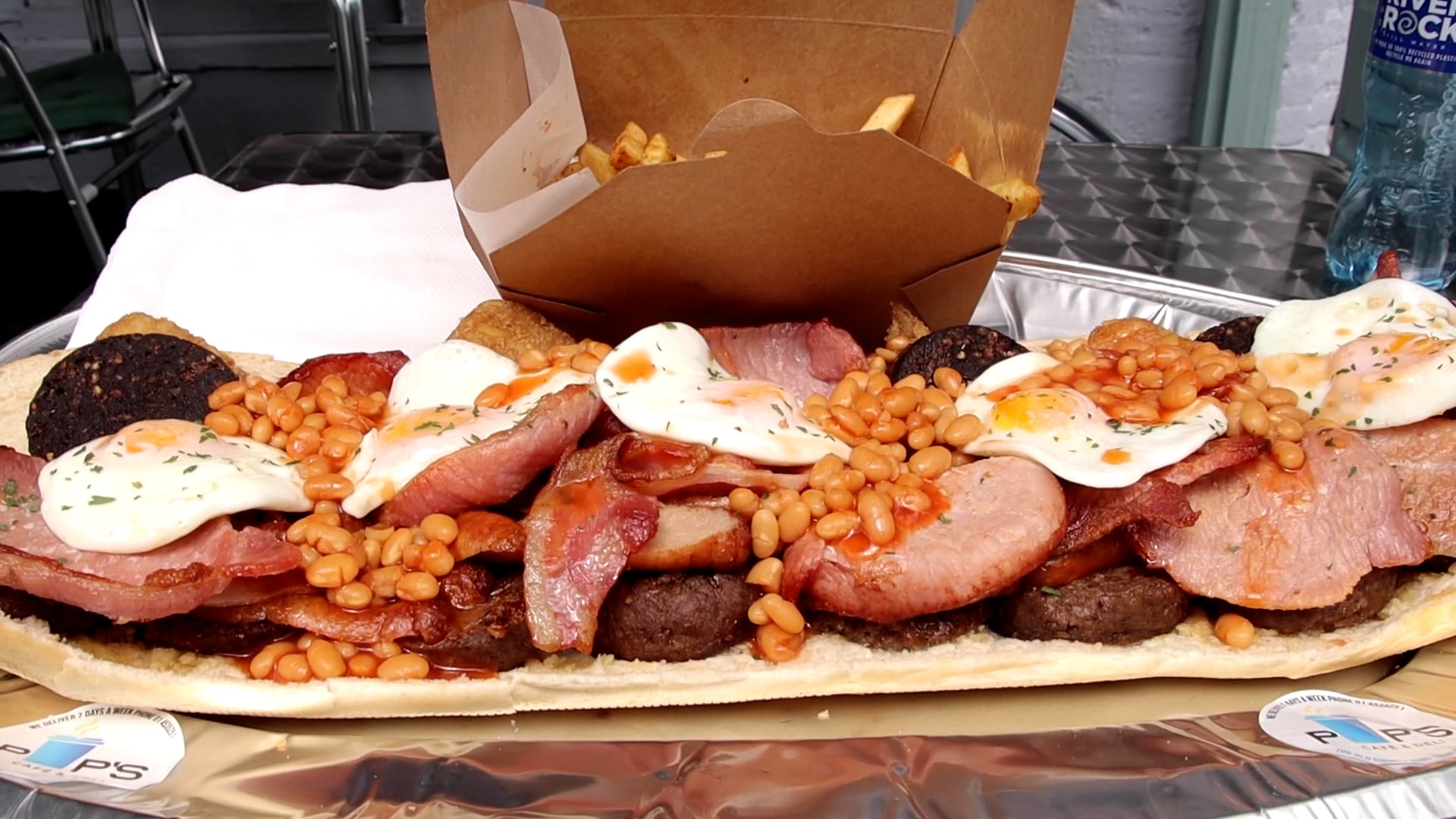 07 Jul

The Breakfast Roll Challenge Dublin | Pip's Cafe Crumlin

Posted at 14:36h

in

Radio

I'm not sure if you've ever taken on any serious food challenges before, but this one in Crumlin is amazing. Arguably, Pips Cafe and Deli in Crumlin, has the largest breakfast roll you can get in the country. Possibly even the world. And their food challenge has yet to be successfully completed by anyone as of writing this post.

Myself and Saoirse went out recently to try our hands and mouths at it and to see how we'd do.
The Breakfast Roll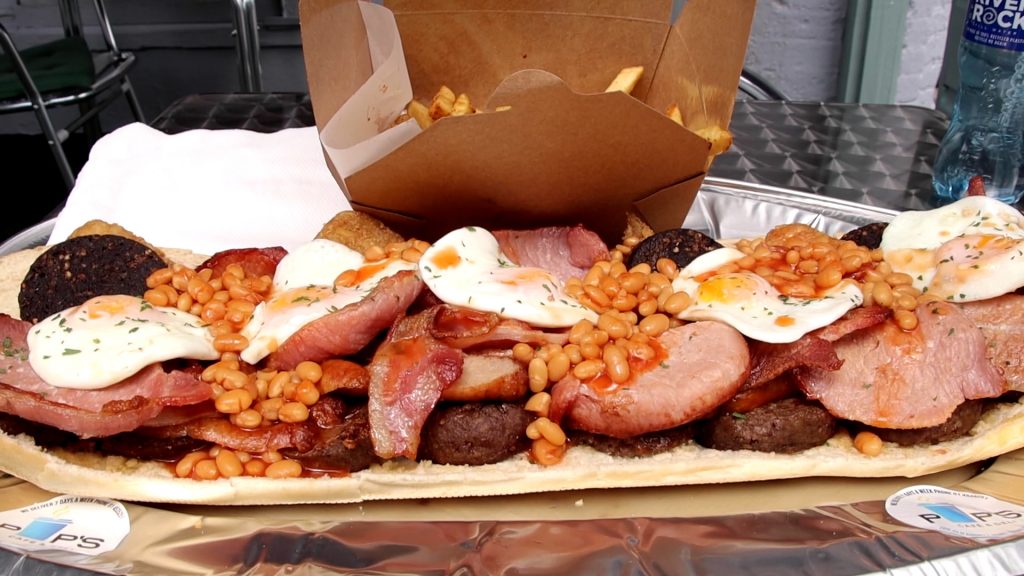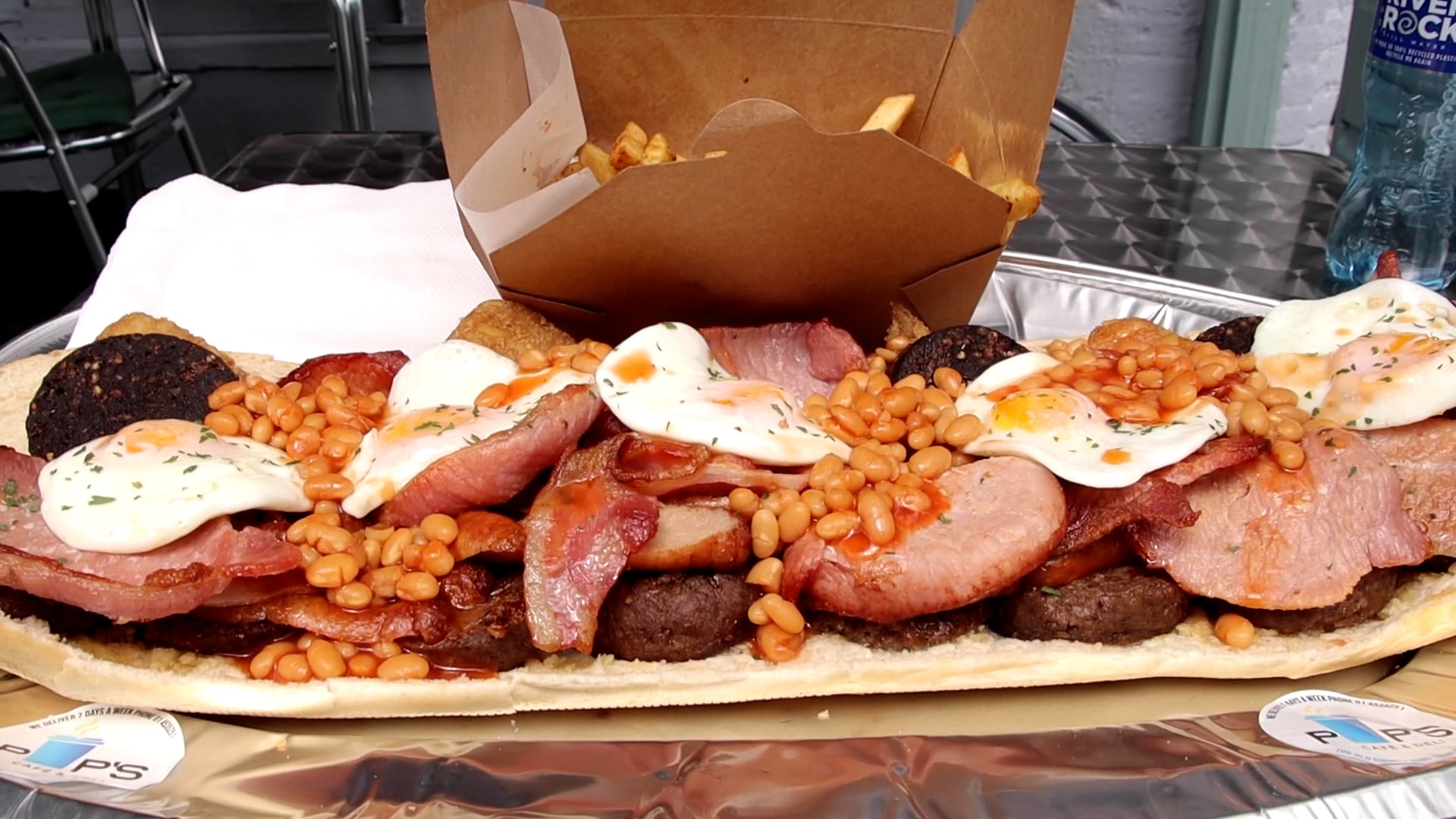 So, what exactly is served up for you? Okay, so it's:
a 22 inch French Baguette
10 rashers
10 sausages
6 hash browns
5 eggs
5 white pudding
5 black pudding
beans
a portion of chips
All of that to be eaten within the 45 minute time frame. And honestly, you'd think that was plenty of time to do it. It's not at all. If you finish the roll, you get it for free, but if you don't you pay the €25 bill, which actually gets donated to the Crumlin Men's Shed group.
Who Won?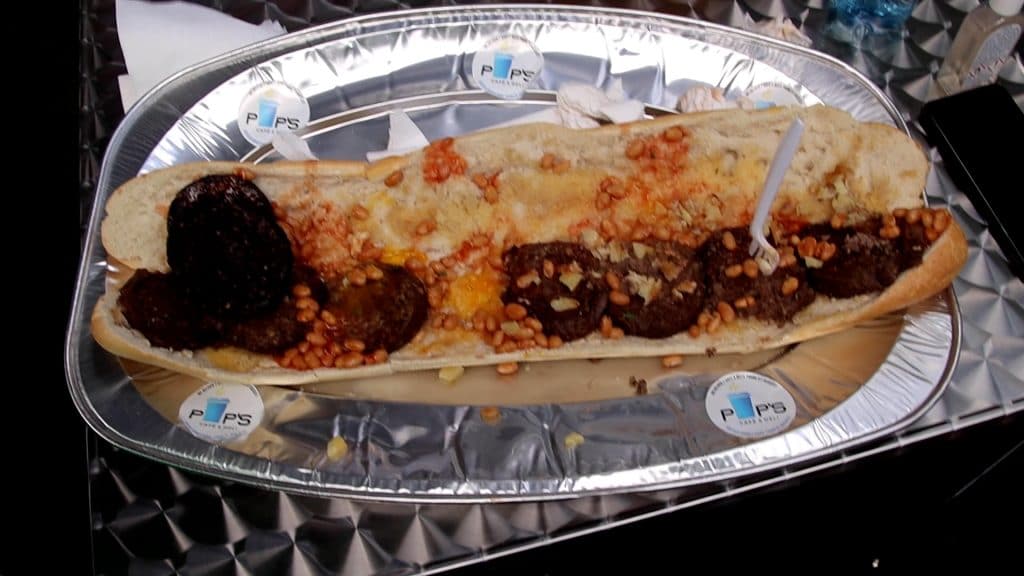 Neither of us won. Neither of us came close in reality to finishing it. There is just so much food to try and consume within the 45 minutes. You are eating constantly and it feels like you never even make a dent in the roll in front of you.
I personally opted to leave the carbs until the end. That was some of the suggestions from other people in the cafe and I think it proved a smart move. Bread and chips would be very filling from the get go, so leaving them until the end might be better.
Also, and I'm not sure this was the right move, both myself and Saoirse avoided consuming any drinks for a large part of the challenge. Again, the thinking here is while you are eating, you don't want to fill up on liquids.
However, might some more water earlier on, have aided with digestion and helped move some food down from your stomach and into your intestines? I've seen some videos of competitive eaters who will regularly drink during their challenges, so I'm not sure. More water might have helped make the food soggier and easier to swollen.
Who knows.
Anyway, out of our losing, Paul, the owner of the cafe, got his son to decide who had eaten more and yes, yours truly took home the prize of failing slightly less.  Happy day
My Advice To You
If you are thinking about doing it, it's definitely worth it even for the craic. The food by the way is amazing. If I could give you 3 pieces of advice, wear tracksuit bottoms/stretchy pants, leave the bread till last and fast for a day before taking on the challenge.
Check out Pip's Cafe and Deli's facebook page where they have the latest details on the challenges and even if you're not keen for taking on their breakfast roll challenge, their coffee and deli is fantastic anyway. Well worth a visit.