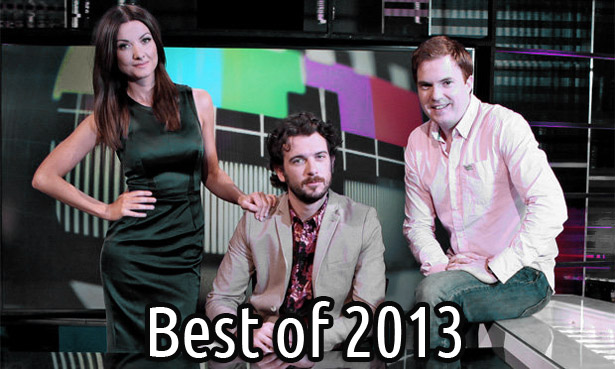 26 Dec

Republic Of Telly | The 5 Most Watched Videos Of 2013

What have been the most watched viral videos from the Republic of Telly in 2013? Now, on closer inspection, this list includes the latest series with Kevin McGahern as main man AND the videos from the end of the previous series featuring Dermot Whelan.

We're looking at the year here and not the series, so if you have a problem with that, well, there's not a lot I can do for you.

The top 5 videos from The Republic of Telly this year have clocked up more than [bd_themecolor]4 million views[/bd_themecolor], which is impressive given our population and that most other countries often don't get our humour at all. Because they're saps.

It's pretty impressive and the top 5 don't even include, Ireland The Musical, Every Christmas Ever or Every Irish Pub Ever.

So, what were the most watched Republic of Telly videos in 2013? Well, here they are in decending order.
5: Keeping up with the Kardashian Sex Tape — With Georgia Salpa
More than 382,000 views for this one. I don't really find it that funny in fairness, but then again, when you have [bd_themecolor]Georgia Salpa's cleavage[/bd_themecolor] on show for the entire thing, it's bound to do well with the younger male demographic. 😉
4: Things You Could Say in The 80s – Republic of Telly
No cleavage in this one, but still more than 472,000 views. [bd_themecolor]Wooden spoon features heavily[/bd_themecolor], so if you're like me and still have some residual emotional scarring from the 80's, just know you've been warned.
3: Every Irish Wedding Ever
Yep. Every Irish Wedding Ever hits the nail on the head. They should do every Irish funeral ever too. Would be some craic like. Pretty much the same except there's more people in black.
2: You Know You're Irish When

Tayto or King, shifting mates and hating friends when things go well for them. Ireland all over it. This 'You Know You're Irish When…' video from the Republic of Telly has racked up more than 1.2 million views since it's release in April.
1: Orchestra Hidden Camera Prank
And finally, the most watched Republic of Telly video in 2013, with more than 1.5 million views is this orchestra prank. Fred Cooke and co take to the streets to give the ordinary people of Dublin a bit of a soundtrack to their daily lives. I didn't actually realise that this had clocked up so many views, but sure there you go. I lol'd anyway.
If you'd like to check out the rest of the videos that didn't make the list check out the Republic of Telly's YouTube channel. (It's actually RTE's comedy channel. )