1000 Shares On Facebook?! Amazing Right?! Wrong…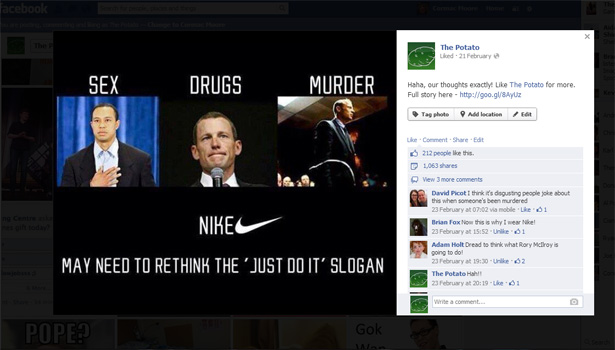 A
s you can see from the picture above, this image got over 1000 shares on Facebook and an absolutely huge reach. One of the best or most successful images I've ever posted.
I have to say, my ego absolutely loved this. Loads of likes, comments and a ridiculous amount of shares. People liked something that I put up so much that they were willing to share it! Yaaaaaaay for me!
Most people would kill for that kind of "engagement" and "reach", but was it actually worth anything in the end? I mean, you would be singing your own praise with a client or manager if you had figures like that – but is there any value here?! :/
What Happened?
Amazing things happened, right?! The image went viral, someone then handed me a pile of cash, women were throwing themselves at me, people were asking for my autograph and I got a statue commissioned of me in Dublin…
Right..? WRONG.
Well, the page likes for The Potato went up at least, right? Jeeze, we're wrong again! #SadFace
This image was posted when the entire Oscar Pistorius thing was kicking off. (He's the South African guy that's being charged with the murder of his girlfriend…). It was an example of how being on the ball with something current can take off. But, that's about it.
The week that picture was posted and by the time the 1,063 shares had come in, the page likes went up by about 8. 1,063 shares on Facebook, resulted in 8 likes.
1,063 shares on Facebook, resulted in 8 likes. 🙁
Now, for some reason the Excel file for the Facebook Insights won't open so I can accurately show you the reach of that picture, but I'm pretty sure somewhere around 60,000 people saw that post.
From that 60,000, 8 decided to like the page from it. What's that conversion rate? Well, when I went to work it out on my phone, the calculator just started laughing at me and I felt really stupid… 🙁
0.013% of a conversion rate. Now unfortunately we can't compare that to how good my social media ego was doing at the time – and who knows, I could argue that having those figures on content on my page is good for social proof and credibility and things like that that we can't track or measure (yet) – but from a marketing and measuring  point of view, those 1,063 shares, were in fact useless.
Site Traffic
I was also keeping an eye on traffic to the site and yep, you guessed it, no significant increases that allowed me to retire to a dessert island with all my Internet money.
So, what's the take home message here? I've no idea really. Viral content is the holy grail of Internet marketing for many and while it's an amazing ego boost, sometimes, it just doesn't lead to anything special.
Kinda like most things that are holy though, they promise so much, but in the end the only thing they deliver is an intangible wish that we want to believe in so much, yet find it so hard to look at the facts… :/
Maybe I just didn't believe enough though…
Anyway, if you've got some thoughts or an example of how I'm horrifically wrong, do get in touch!
Comments
comments